7 goals for Vietnam were scored by Nguyen Thinh Phat (2 goals), Nguyen Minh Hieu (2 goals), Tran Thai Huy, Le Quoc Nam and Nguyen Minh Tri. Timor Leste got the honor table thanks to Cesario.
Pham Minh Giang's teachers and students lead Group B after 2 matches with 4 points, equal to Myanmar but better than the goal difference (+6 compared to +5). In the previous match, Myanmar overcame Australia with a score of 6-1.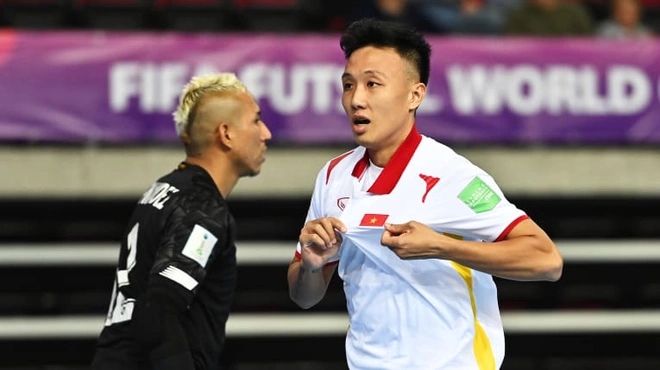 Minh Tri quenches his thirst to score goals.
The Vietnamese team opened the scoring in the 48th second with Thinh Phat's corner turning. However, after that, the students of coach Pham Minh Giang played a deadlock.
Goalkeeper Matamalai saved many times, including Minh Tri's 10m free kick in the 16th minute. In the weak game, Timor Leste suddenly equalized with 3 minutes left in the first half. Duc Hoa's error on the edge of the ball created an opportunity for Andre Vong to counterattack. Cesario received the ball well to cushion the empty net.
In a difficult situation, the Vietnamese players had consecutive goals. From Duc Hoa's corner, Thai Huy shot wide into the net in the 19th minute. Right after that, Thinh Phat raised the score to 3-1 with a close-range ball from Duc Hoa's cross.
Before a weak opponent, goalkeeper Ho Van Y was given a break in the second half, replaced by Nguyen Hoang Anh. Timor Leste also has a change in the goalkeeper position. However, Gama did not perform as well as his teammate Matamalai.
In the 23rd minute, Quoc Nam shot from the corner to the corner from Van Vu's corner. Just a few seconds later, Van Hieu put his name on the scoreboard with a low shot from a distance of 10m. In the 30th minute, Minh Tri set up a super product with a click of the ball over the goalkeeper's head, after neatly receiving the ball from Quoc Nam's long pass.
After a missed phase with a shot that hit the post even though the goal was empty in the 38th minute, Van Hieu corrected the mistake with a goal a minute later, from Duc Hoa's cross, to seal the victory 7-1.
Playing dominating, but the Vietnamese futsal team still showed a lack of cohesion, many times lost the ball and looped in defense. Timor Leste missed many delicious opportunities when there was no high-class striker.
In the final match of the group stage on April 6, Vietnam futsal team will meet Australia, and Myanmar will meet Timor Leste.
Duy Minh – Zing.vn |
14:54 April 5, 2022